I'm… confused. Taric got banned?
…I guess that's fair. Sona it is, then.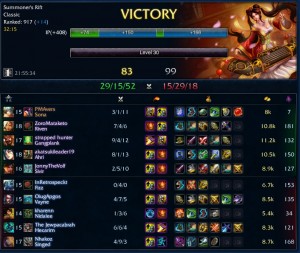 A little historical perspective: Sona, before I went on this Taric streak, was my most-played champion in Ranked. (Something like 24 games.) Figured after her buffs last patch, might as well take her out for a spin. And dear lord, I forgot that she can hit like a truck with those power chords. Playing her aggressive with those is definitely a nice change of pace from stun/shatter all the time.
And that ultimate. Music to my earholes.